Contact the Pop In

Pop In Place Archives
February 2017

A Message from The Rev Alan Clarredge…

Dear friends in the U.K.
Thank you once again for your prayers and and continued support.
The work that has been undertaken continues to be of vital importance to so many suffering people both young and old and I only have two major plants left to bring back into use before I return to the UK.
For 8 days of this visit I have received excellent help and support from Austin Brooke-Thomas, who raised his own funds to fly out to me.
He works as a host in Christchurch Hospital Macmillan unit. Thank you Austin for your encouragement and valuable assistance.
Financially the hospitals literally have no money and during the last year have become virtually bankrupt.
This was very noticeable after I completed my work at Victoria Falls hospital. when I presented a receipt for fuel and accommodation (One of two hospitals that have always covered costs).
I was called into a meeting of heads of departments along with the medical officer of health for the locality; they appeared to be extremely embarrassed as they told me "our cashier went to the bank this morning and the manager has refused to let us have any money whatsoever so we cannot pay", I felt glad to be able to say Rivers of Living Water would cover their costs and they expressed sincere thanks, the same happened at the other hospital in Beit Bridge on the South African border.
It has been necessary for me to supply all fuel for a hospital truck this year and to hire transport to get around when the hospital truck has not been available.
Also to pay for accommodation for staff.
This has proved very expensive but until now and I praise the Lord for this, has been sufficient for our needs.
One great point this year is that not only here in Bulawayo, but throughout most of the country, there has been torrential rain.
In fact it has rained every day I have been in the country (no sun tan!!). That is with the exception of the very South of the country (Beit bridge) which has seen no rain whatsoever; this rain has its drawbacks; partly because the supplies have been blocked by silt and debris.
I have been kept very busy cleaning water purification systems.
At one point of my journey we were trapped in flash floods and the depth of water reached over twenty feet on the road!!!!.
Thankfully we were kept safe.
The medicines were well accepted by the hospitals and clinics and helped their dwindling and in some cases none existing supplies considerably.
The blankets were so well received not only by the hospitals, but also the mustard seed orphanage, where 52 children included disabled and handicapped youngsters are cared for; Sweets from the children of Rossmore Church, knitted clothes, blankets and toys from the Pop in at Bere Regis and numerous items from other churches and individuals; baby clothes and toys, knitting toys and giving items, also distributed at the school at Monde.
Although the challenges are immense I know that one again, in a few days this years work will be successfully completed.
Thank you for your continued support for the work Alan



Sing Your Heart Out February 10th…

10th February

Thank you to all who supported out Christmas Sing your heart out event Pop In Performers, Rev Charles and the School Christmas Choir with Lucy Roberts.
Dear Alison, Thank you so much for sending your generous donation.
Thanks to you and your fabulous choir, many more vulnerable and isolated older people will be given the support they need to live happily and independently.
So although we've said it before, we'll say it again – thank you.

Sing Your Heart Out




The Pop In Place Piano Café…

10th February

Thank you to all who supported the Macmillan Coffee Morning, it was very special as it was in memory of Rose Wise who was a founder member of the Pop In Place and a very good volunteer with us for many years, and of course a dear friend.

We are so pleased to announce that we have raised when all monies are collected over £700.






Michael Tomlinson MP…

27th February

I was delighted to drop in to the Bere Regis, Pop in Place community café this morning.
The All Age Community Cafe is open on Mondays and Fridays 10-12 am and promises a warm welcome to everybody.
There is also a Baby & Toddler group on Thursday mornings.

If you need transport, please phone Alison on 01929 472023 or for more information, call team leader Alison on 01929 472023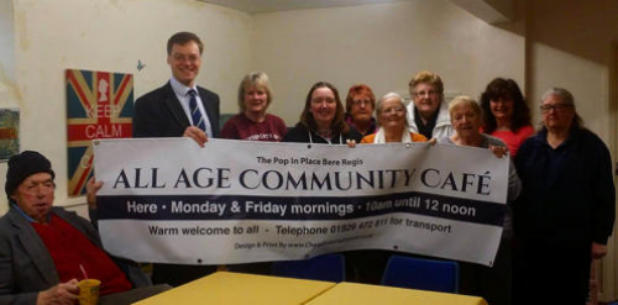 Great Get Together…

We are pleased to announce that the Pop In Place will hold a Great Get Together on Friday 16th June from 10am until 12 noon along with our MP at the Upper Drax Hall .
It will be a very simple format CAKE COFFEE and MUSIC I am looking for some local musician to play for us during these two hours if you can help out with this please let me know.




We are appealing…

for the good folk of Bere Creek to offer your whole hearted support to our next production " Way Out West " ( a western musical) The Pop In Performers are doing four performances of "Way out West".
They are Thursday 18th May at 6pm Friday 19th May at 7pm and two on Saturday 20th May at 2pm and again 7pm.
TICKETS are £5 and will be available on Fridays and Mondays at the Pop In Place you will need to pre buy your tickets soon as we are expecting a big demand for this show.
This is a very special production as it is Pastor Jim's last script and also will be raising much needed funds for Bere Regis Church Roof.